SPRING 2022 CLASS OFFERINGS
We are pleased to be offering a wide array of classes over the next few months! Please peruse our list and pick your favorite(s) to attend! Call the shop for more information. 270-466-5000. You may register online for these classes as well. www.quiltandsewatgoldenthreads.com Your spot is not secured until you have paid the class fee.
Denise
BAG QUILTERS—A TWIST ON A MYSTERY QUILT
Here is our twist on the traditional mystery quilt: you know the quilt you will be making, but not the fabric you will be using! You will get to choose the color way, (several to choose from), but the fabric will be chosen by the Quilt and Sew staff! The actual fabric inside your brown bag will be a surprise! Don't you just love surprises! You will be required to purchase a kit to participate in the club each time it is offered. We plan to offer this club about once a quarter, with a new project each quarter

When:May 7, 2022, 10:30 (after UFO) Fee: Included in the price of the kit. May's kit is $85.Instructor: Kay Jay

COOKIE CUTTER QUILT
Join Nancy as she guides you in the construction of this gorgeous, fat quarter-friendly quilt. Learn how to use the Super Sidekick ruler in its construction! It looks great in any color combination—color coordinated, gradient shades, or scrappy. Small scale prints, blenders or batiks are best in this quilt. And the best part—NO Y SEAMS!!!
When: May 13 & 14, 2022, 9-4 Fee: $45 + supplies Instructor: Nancy Beecher

TUCKER UNIVERSITY: CORNER BEAM & SLIVER TECHNIQUE

May's TU will focus on mastery of the corner beam unit—a unit which is usually constructed with either templates or paper piecing. We will learn how to construct this unit along with its skinnier sister, the sliver unit! Then we will explore how to incorporate them into quilts to add interest and fun without adding much difficulty! Students will be given a free pattern that uses these units to create a fabulous quilt! You can jump in TU at any time—so, come join in on the fun! We meet the second Wednesday of every month at 9:00 a.m.
When: May 11, 2022, 9 a.m. Fee: $20 + supplies Instructor: Justine Burris

"JUST SEAMS" STRIP/RAG QUILT— , Instructor: Kathy Pleake
Saturday, May 21st, 10:00 am – 4:00 pm Class fee: $20, additional supplies required
Learn the technique of creating a quilt with only strips—no separate batting, backing, or binding required! When you are done piecing it and snipping the raw edges, the quilt is finished! Perfect for a baby quilt or throw

STARRY NIGHT NATIVITY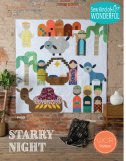 Join Stacey as she walks you through the construction process of this adorable scene with Mary, Joseph, and Baby Jesus. She will teach you to use the Wonder Curve Ruler, offering you tips and tricks for perfecting your curves and putting your figures together. The Holy Family trio will make a wonderful wall hanging, or you may choose to incorporate it into the larger quilt featured in the required book.

When: June 24 & 25, 2022, 9-4 Fee: $40 + supplies and kit Instructor: Stacey Young
QUILT AS YOU GO TABLE RUNNER OR LAP QUILT
Do you want to be able to finish your own quilts, but it seems like too daunting of a task? Here is a possible solution! Kay will guide you to sandwich and quilt your project a bit at a time, then join those bits together to form a quilt! By starting with a small project like a table runner, you can try this technique and see if it suits your needs!
When: June 4, 2022, 10:30 a.m. (after UFO) & June 18th, 10 a.m. Fee: $40 + supplies Instructor: Kay Jay

TUCKER UNIVERSTIY: RAPID FIRE LEMOYNE STAR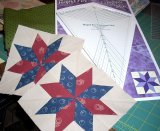 The Lemoyne Star is one of the best-loved blocks ever, but some quilters are hesitant to work with bias edges and Y-seams in its construction. Never fear—Deb Tucker has come up with a far easier construction method using strips and no Y seams at all! This tool is fabulous and is the basis for some more advanced techniques that will be offered in November and December. So, be sure to take this class to master the basics, in preparation for the more complicated techniques taught later!
When: June 8, 2022, 9:00 a.m. Fee: $20 + supplies Instructor: Justine Burris
Thank you for shopping with us.
We love our Quilting Friends!!



We are online now.
(And we have a lot of fabric!!!)
So if you can't get to Trenton, you can see what's new at
https://www.quiltandsewatgoldenthreads.com/
We can help you match that fabric from your stash.
Just give us a call.
270-466-5000


Covid Stuff
Hand sanitizer at the front door as you come in. Respect others' space.
---