A special Mother's Day treat for you!
This weekend is a time dedicated to honoring mothers. For many of us, we inherited our love of all things fabric from our mothers. We fondly remember watching our mothers save scraps of fabric which magically transformed into colorful masterpieces that wrapped us in warmth and love. Many of us were blessed to have our mothers pass on their vast sewing knowledge and skills to us. Others of us turned the tables and taught our mothers to quilt! Those of us who are mothers ourselves are already instilling a love of quilting in our own children. Quilting is a common thread connecting generations, providing a common language we all can speak.
Since our mothers are so important to us, we want to honor them in a special way—not just for one weekend, but through May 29th! So, we are offering a special coupon as a way of saying "Thank you" to all our mothers. So, if you ARE a mother, or if you HAVE a mother (we certainly can't exclude our male quilters!), this coupon is for you! You may use it once per day. For in-store purchases, you may print the coupon or screen shot it to show us. For online enter the coupon code MOM at checkout. Forward this email to friends and fellow quilters to share the love!
Happy Mother's Day!
Denise and the Quilt and Sew Staff
www.quiltandsewatgoldenthreads.com

ONLINE COUPON CODE: MOM
**Coupon may not be used to purchase gift certificates.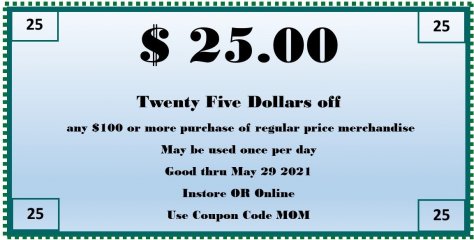 We are online now!
We can help you match that fabric from your stash.
Just give us a call.
270-466-5000
Thank you for shopping with us
We love our quilting friends !!

COVID STUFF:
Due to government mandates and regulations, we are suspending all classes until we feel we can safely resume them while meeting or exceeding requirements for gatherings and social distancing in our classroom. We look forward to gathering for classes again in the near future.
Hand Sanitizer at the front door as you come in - Masked as appropriate -Respect others' space.