JUNE 2019 NEWSLETTER
To Market to Market to buy more fabric--
Now it is your turn to see what we picked!
Gadgets and gizmos and notions galore,
Classes and demos and oh! So much more!
Our choices will travel from Japan and from France--
Batiks and pastels and a touch of romance.
Flamingos, and elephants, and giraffes, too—
Predators, Vols, and of course UK blue.
Fabric Café patterns and books sure to please,
And one-yard cuts, bundled in threes.
New BOM's and a Mystery Quilt, too,
A toss of the dice, and new patterns for you.
New Lori Holt books, fabrics, and kits--
We are quite sure all will be hits!
So, come in and see us as soon as you can.
New stuff comes daily with the UPS man!!!
From the Shop Girls: Denise, Justine, Debbie, Nancy, Lora, Lin, Sarah, & Stacey
---
SHOP NEWS:
Save these dates!

SEW DAYS 2019--LEARN-TO-SEW SERIES
Beginning July 17, finishing August 21
Details: Six one-day classes, featuring fun projects suitable for novice and experienced sewers alike! Each class is $5. Classes are independent of each other, so take as many as fit your schedule. Classes will be on Wednesdays, from 10-4. Children ages 10-14 may sew( with Approval by Denise) Or if accompanied by a parent. Machines will be available to rent for those who do not have their own machine.
July 17: Easy Mitered Placemats
July 24: Half & Half Apron
July 31: On the Eights Runner

August 7: Catch-All Bag
August 14: Easy Backpack
August 21: Trendy Tote
CHRISTMAS IN JULY
Christmas Open House—Saturday, July 13
Join us for our annual Christmas Open House, during which we will reveal our newest Christmas lines, patterns, samples, etc. That day we will have refreshments and demos throughout the day. Everyone attending that day will receive a special coupon! Special Christmas classes will be offered during the month of July.
AUGUST IS PINEAPPLE MONTH!!
You will want to join us for all our Pineapple themed classes. Not only will you learn a new technique, but you will get to enjoy virgin Pina Coladas and pineapple desserts! See below for our currently scheduled pineapple classes. Watch for the PINEAPPLE SYMBOL for our sweet classes! Watch future emails for new pineapple themed classes!
NATIONAL JELLY ROLL DAY
SAVE THE DATE—Saturday, September 21, 2019. We are still working on the details, but save the day to come sew a jelly roll project (or two) with friends!
---
CLASS SCHEDULE
JUNE:
QUILTING 101: Our ever-popular beginning quilting class will be offered once again this summer! This is a skill-building sampler quilt class. Begin with a Learn your Machine Class (required). Saturday, June22 from 9 to 1. Regular classes will be held on Tuesday and Thursday evenings at 5:30, beginning June 25, and going through July 30 (skipping July 4th). Cost is $90+ supplies/fabric. You must purchase your fabric from our shop. MUST HAVE 6 STUDENTS IN ORDER FOR THIS CLASS TO BE HELD. Call the shop IMMEDIATELY to ensure this class will take!
EASY PEASY 3-YARD QUILT CLASS: Join Nancy and Debbie as you make an adorable quilt. Choose from any of our individual patterns from Fabric Café. Price of the pattern will be included in the class. Choose your own fabric, or use one of our 3-Yard bundles. Saturday, June 29, from 10-4. Cost is $30, which includes your pattern. Fabric must be purchased here at the shop.




JULY:
TUCKER UNIVERSITY: CORNER BEAM Join Justine as she introduces you to the Corner Beam tool from Studio 180 Design. Learn to make these tricky units without paper piecing, and with incredible precision! Once you see how well these Corner Beam units play with other units, you will want to add them to your quilt designs! Tucker University always meets the first Saturday of the month—July 6-- at 10:30 am. Cost is $60, and includes all your tools!



TOOL TOTE: Audra Langley will be guiding you in the construction of this amazing bag. This is a two-day class, and it will take both days to finish this project! There is no prep work for this project, but you need to have all your supplies and an idea of where you want each of your fabrics ahead of time. Tuesdays, July 9 AND 23rd from 10-4. Cost is $35. Supply list given upon paying to reserve your spot.


POCKETS TO GO: Join Audra on Saturday, July 13 from 10-4, as you make one, or both, of these darling pocket-filled storage cubes. Prep work is required, so you must sign up/pay a week in advance (by July 6), in order to get your pre-class instruction sheet. Cost is $20.


SEW DAYS: $5 classes; 10-4 (See above for more details.)
July 17 Easy Mitered Placemats

July 24 Half & Half Apron
July 31 On the Eights Runner


MODERN CHARM TABLE RUNNER: A Quilt-as-You-Go Project: Grab a charm pack and join Kathy Pleake as she guides you to make an easy table runner. Learn the basics of quilt-as-you-go, and end up with a darling project! Class is Saturday, July 20, from 10-2. Cost is $15 + pattern & supplies.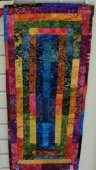 AUGUST:
SEW DAYS: $5 classes; 10-4 (See above for more details.)

August 7 Catch-All

August 14 Easy Backpack
August 21 Trendy Tote


PINEAPPLE ON THE GRID: Join Nancy as she guides you to construct an adorable pineapple wall hanging. Learn to piece on an interfacing printed on a grid. Prep work must be done in advance, so sign up early! This class will be offered twice—choose only one session. Saturday, August 10, from 9:30-4:30 OR Tuesday August 13, from 5-9 pm. Cost is $20 + supplies.
PINEAPPLE PILLOW or TROPICAL FRUIT PINEAPPLE QUILT: Join Justine as you learn to use the Creative Grids Pineapple Trim Tool in order to make a traditional pineapple block with ease! You may make as many blocks as you wish—one for a pillow; 3-4 for a table runner; multiples for a quilt. However, in the course of the class, you will probably only finish a few. Prep work required, so sign up early! Saturday, August 17, from 10-2. Cost is $15 + supplies.



SEPTEMBER:
POPPINS BAG: Welcome our new teacher, Terri Solsbury, by signing up for this intermediate bag class. Like its namesake, the Poppins bag can hold all kinds of goodies! Class will be Saturday, September 14, from 10-4. Fee is $25 + supplies.





NATIONAL JELLY ROLL DAY: SATURDAY, SEPTEMBER 21.
Watch for details in the next newsletter.
OCTOBER:
TURKEY TABLE RUNNER: Just in time for Thanksgiving, this cute runner will be perfect on your holiday table. Details to come, but for now, save the date: October 12.

---
SIT 'N SEW DAYS: Every Thursday from 10-4, our classroom will be open and available to anyone who would like to come and sew. Stitch a little, talk a lot. Make a new friend or three. And, best of all, get some work done!
UFO CLUB: It is not too late to join. We meet the first Saturday of each month at 9:00. Call the shop for details--270-466-5000, or just show up at our next meeting to check it out. It's time to start shooting down those UFO's!
TRENTON HANDWORK GROUP meets monthly each FIRST TUESDAY of the month from 10:00 am—1:00 pm in the Quilt and Sew classroom. If you want to learn new techniques, find portable projects, and share the latest in English paper piecing, red-work, embroidery, and more, this group is for you! Come join us, bring a project or idea, and bring your lunch. Call the shop for more details. 270-466-5000.
---