More August News


When I went outside this morning, there was a bit of a nip in the air! Fall is just around the corner! School has started up again, and now you have some extra time to sew, right? SO, HAVE YOU BEGUN GETTING READY FOR CHRISTMAS YET? I hope we are helping you get inspired! We have a new free pattern beginning this Saturday! It is a beautiful Christmas pillow that sews together in a snap! I think you'll love it! Come in for your free copy! And while you are here, check out our BI-WEEKLY SALE and our HOT DEAL!! You won't want to miss this one!! Our first DRAWING for a $25 gift certificate will be at 10:00 a.m. on Saturday, September 1st. You get to add your name to the jar with each purchase.
Also, the shops in Trenton are planning a YARD SALE on Friday & Saturday of Labor Day Weekend (August 31 & September 1). It is the perfect time to browse their products and to find some fabulous deals! Quilt and Sew will be participating, too, so come see what we have to offer!
In Stitches,
Denise
FREE PATTERN!!Every other week, we will have a new, FREE pattern available to all who come in. The patterns will be for items that are quick to make—for yourself, or for a gift.
DRAWINGS MONTHLY: Each time you make a purchase, you may put your name in a jar for a chance to win a $25 gift certificate. Drawings will be held on the first business day in September, October, November, and December! The more purchases you make in that time frame, the better your chances to win!
BI-WEEKLY SALES AND HOT DEALS: We will announce these specials in our newsletters and on Facebook. You won't want to miss out on these. Quantities will be limited on the "Hot Deals," so don't delay!
BI-WEEKLY SALE—August 25-September 7 only—All of our Peppered Cottons and Free Spirit fabric (Tula Pink, Kaffe Fassett) on the bolt is 20% OFF!! Also, our pre-cut Free Spirit Fat Quarters are buy 4 at regular price ($3.50), get one free!!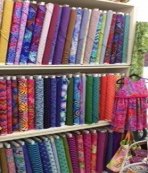 HOT DEAL #2—August 25-September 7 only—while supplies last!
ALL CLEARANCE FABRIC IS $2 PER YARD. (You must purchase the last little bit on the bolt if less than one yard would remain after your desired amount is taken.)

FREE PATTERN #2—Ho! Ho! Ho! Pillow—Whip one up in a few hours! Perfect for a quick hostess gift! To make it even faster, use an orphan block as the center instead of the Ho! Ho! Ho!
TRENTON SHOPS YARD SALE:Friday and Saturday, August 31 & September 1st. Come see what items the local shops are offering at a discount of up to 75% off the regular prices!


MINI RETREATS IN OUR CLASSROOM
We will be offering a mini-retreat each month from now until December, on a Friday-Sunday! We will meet at 10 am and sew until whenever. You will not believe how much you can get done! Come and join us for one day or for all three. Friday will be a brown bag lunch, and pot luck on the weekend! YOU MUST CALL THE SHOP TO RESERVE A SPOT. It is in our classroom, so space is limited. It's hot out there—come inside and sew!!! There is no fee for this retreat. Watch newsletters and Facebook for our fall dates.
UPCOMING MINI-RETREAT DATES:
SEPTEMBER 27-30


Trenton Handwork Group
Come to a new hand work group that meets monthly each First Tuesday of the month from 10a-1pm in the Trenton classroom. If you want to learn new techniques, find portable projects and share the latest in English paper piecing, red-work, embroidery and more, this group is for you. Come join us, bring a project or idea, and bring a dish to share. Call the shop for more details 270-466-5000