Summer is almost Gone..




Whew! Where has the summer gone? It is hard to believe that it is August already, and that school will be starting soon.

As many of you know, my summer hasn't gone exactly as planned. My mother is doing as well as can be expected after her stroke. She still has mobility issues, but is a real trooper. Dad has good days and bad days. It is good to have them both at home. They both require around the clock care, but I have some wonderful sitters who allow me to take care of my businesses. While caring for my parents is difficult and challenging, I wouldn't have it any other way. It is my way of honoring them for the many, many sacrifices they have made for me. Thanks for being so understanding when i have to leave the shop unexpectedly.

Have you been to Trenton lately? Our little downtown is now full of wonderful shops and stores. And now we are pleased to announce the opening of a new restaurant, The Filling Station! Things are looking up for Trenton! It is great to see more people discovering what we already knew—Trenton is terrific!

We have some exciting classes and sales coming up, so please check out the details below. I look forward to seeing each of you soon!

Love you all, Denise

UPCOMING EVENTS AND CLASSES

SIDEWALK SALE: August 5-12, during regular business hours, weather permitting.

We will have a variety of bolt ends of designer upholstery and drapery fabrics, bags of coordinating prints, bags of trims, all specially priced to move at 3$ a bag! Also, we have a large ironing board, several wall décor items, a long curtain hanging rod, and numerous store samples (curtains, aprons, wall hangings, quilts, placemats, etc.) We are trying to clear out the front room for more fabric!

CHRISTMAS IN AUGUST SALE: Saturday, August 19th only!

All Christmas prints, all flannel, and all Halloween fabrics (basically all fabric in the "Holiday" room) will be 25% off for that one day only! Christmas precuts and kits in the "Holiday" room will be 15% off that day as well! Get a head start on your holiday sewing, or stock up for next year! We will have cookies and punch and will be playing Christmas music to get you in the spirit!



TOTAL SOLAR ECLIPSE, August 21st. In case you have been totally off grid and haven't heard, we will be experiencing a spectacular total eclipse on Monday, August 21st. Furthermore, Trenton is an ideal viewing spot for this once-in-a-lifetime celestial event. We are in the path of totality and will experience 2:38 minutes of totality. So, if you would like to come view the eclipse with me, we will have special glasses all month that will allow you to view the eclipse without damaging your eyes. From now until August 21st, you may have one free pair of eclipse glasses with any purchase you make and a second pair for a dollar, while supplies last.



SELECT PATTERNS 50% OFF THIS MONTH. We have a basket of patterns for you to peruse. Each one is half price, so you can take two, right? Great for gifts, stocking stuffers, guild gifts/prizes, etc.
COLLAGE QUILT CLASS: August 12 & 26 (two day class), from 10-4. $40
Are you ready to try a completely new technique, one in which NO SEWING is required (until it is quilted!)? Then you will want to get in on this class! Join Joy Hatcher as she guides you through making your choice o
f one of the collage quilt patterns by Laura Heine. You will absolutely love this innovative technique and won't want to stop at just one! This class only has a few spots left, but if it fills up, ask to have your name put on a waiting list. I am certain we will be offering another one soon!
THREAD PAINTING CLASS: September 9, from 10-4. $25.
Speaking of n
ew techniques, you will want to join Jane Powers as she introduces the art of thread painting. You will literally be painting with thread! By lowering you feed dogs and using a simple straight stitch with your free-motion foot, you, too, can learn to thread paint!! In this class you will learn about the different threads to use, how to set up your machine, etc. Jane will provide you with four different small ("8" square )designs to chose from—three fruits and one flower. Once you learn this technique, you will be able to use it to embellish your quilts, bags, garments, etc. Sign up early for this class. Don't miss out!
QUILTING 101, FALL SESSION
: Tuesday evenings, 6-9, beginning August 29. 8 weeks. $80 plus supplies. Join Denise as she walks you through the fundamentals of quilting—from choosing fabrics to cutting, to accurate piecing, to quilting, to binding. You will be making a sampler quilt, with each block featuring a new technique. Graduates of this class can then confidently tackle any quilting project!




OTHER PLACES TO VISIT IN TRENTON:
THE FILLING STATION: Trenton is thrilled to welcome our new restaurant, The Filling Station, where you can enjoy good, down-home country cooking! Breakfasts are available as grab-and-go or dine-in—from sausage biscuits, to custom-made omelets, to "The Trenton," a signature dish of decadently loaded hash browns! Lunches include a melt-in-your mouth homemade chicken pot pie, a huge burger, or a lighter grilled chicken salad with a homemade dressing, just to name a few. You definitely won't leave hungry!


ROSABELLE'S BOUTIQUE: If you haven't yet visited this charming shop, you really must! This amazing little boutique features gorgeous clothing for ladies of all sizes, trendy shoes, fashionable jewelry, darling kids' clothes, Melissa & Doug toys, and unique gifts for any occasion. So much fun under one roof!



THE WOODEN NEEDLE:
Every
Thursday
night Sit and Stitch from
6pm to 9pm


Every 2nd and 4th
Tuesday
night KAL-Knit a-long
4 to 7pm
(Right now we are working on socks, 2 at a time, toe up) Your supplies for this KAL must be purchased at the store.
August 12th and 26th
Learn to Knit. (for first time knitters) You must sign up in advance. Cost is $10 and this will be credited toward you purchase for the class. You supplies for this class must be purchased at the store
Gayla is looking for a part time person who want to learn more about machine embroidery, longarm quilting, knitting, crocheting, weaving and spinning. Must have some basic knowledge. You don't have to have experience in everything listed, but you must be willing to learn new things and have the drive to complete projects with speed and accuracy. Attention to detail is needed and some design abilities would be good. Computer knowledge is a must. Please call Gayla
270-954-9005
.
TRENTON WELLNESS AND MASSAGE: You can get a massage before you shop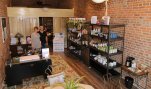 for fabric! How cool would that be! Call and make an appointment. 270-954-9007
Be.You.tiful Salon,

Come by to meet the owner of Trenton"s new Salon, Kaley Smith.This is a three chair salon which includes nail care. Currently there are two open chairs and room for a nail technician. If you are a stylist or nail tech who is looking for a wonderful place to work, set your own hours, have pot
YESTERYEAR ANTIQUES
—Located right in the heart of Trenton sits an amazing treasure trove of antiques and collectibles. Take your time browsing its huge selection, and make sure to visit the back room! Closed Sundays and
Mondays.



SCHLABACH'S BAKERY—Just a short drive (less than 10 minutes) from Trenton is Schlabach's Bakery, a Mennonite bakery featuring homemade breads, pies, cakes, cookies, jellies, and cinnamon rolls. Plus, my favorite—whoopie pies! It is worth your time!
COUNTRY PANTRY—Just down the road from Schlabach's is The Country Pantry, a Mennonite grocery store with whole foods, bulk spices, hard to find flours and sweeteners, candies, fresh butter, milk, meat, and cheeses. They even have canning and pickling supplies. You will enjoy your visit there.